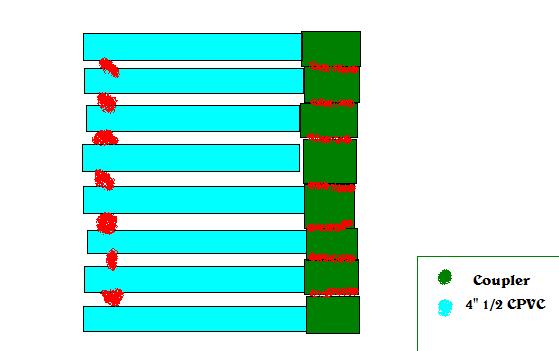 Nite Finder Stripper Clip
After realizing that if you attached a coupler and 4" of CPVC onto the already existing CPVC NF barrell, it provided for a faster R0F(for it's breech), and greater accuracy and range.
So, take 32" of CPVC and cut them into 8 4" sections. Mark the flatter ends with something, such as sharpie. Fit couplers onto the ends without marks, and glue them on.
Now, one at a time, hot glue the coupler-barrells together, trying to make them as straight as possible.
At the ends of the barrells, the parts opposite the couplers, pour a lot of hot glue between the barrells. This is crucial to the strength of the clip. Once it dries, wrap 1-3 layers of duct tape around the assemblage.
To Use: Load a stefan into the back of each barrell, at the coupler part. Cock the NF, put one coupler onto the barrell, and fire. Repeat.