The Celtic Wolf Clan
Welcome to the official page of the CWC, the third known clan in Maryland. This site is completely finished, and we even have a forum! Tell us what you think of our site in our forum, or go to Foamageddon! It owns your sorry comp. Later,
~Sinfil

Oh, yeah. I don't know why, but about 2 months ago, a weird rectangular ad space opened up on the bottom of my page. It's still there. And it shouldn't be there. If I can, I'm gonna look for another server, since freeservers is really restrictive. Really restrictive. I gotta remember the HTML code for images...crap. Yea, so, if the money/calender whatever ad is gone, right beneath the counter, the forces that be have done their work. Thanks for visiting.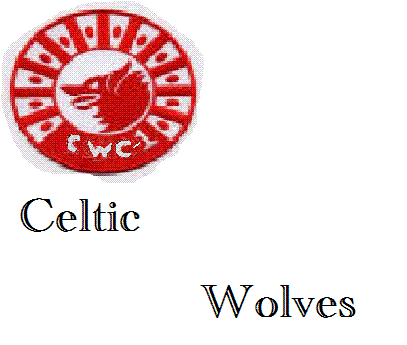 Updates
2-15-06
OH! Yea. I'm moving the site to: here. So...this site will be gone in a few weeks. Anyway...

Well. It's been over a year now since this site has been up, with over 2500 hits. Thanks. I'll be bringing in some new content, and probably ditching this crappy freeservers template-based site. I'll keep you updated.
8-17-05
Wow. This has been wayyyy too friggin long! But finally, an update!
To let everyone that still visits my site know, Foamageddon is...back? I dunno what you would call it, but tinkerer's able to edit it again. I'm gonna update this as soon as I can, getting rid of that pesky guestbook code (hopefully) and sharign some wars and other crap. Anyway, stop by Foamageddom, its the tops.
4-24-05


Okay. I've been meaning to update, but...haven't. I no longer have a guestbook. Get over it. The only people that signed it were this lame guy from NH/NHQ and me. So I got rid of it, and changed it to a Tactics and Strategies page. BUT THE FREAKING HTML GUESTBOOK CODE KEEPS COMING BACK!!! I delete it, and it's gone, but somehow, the guestbook magically appears, even without the code. I'm going to have to look into it. I won't be updating for about a week. Sorry for the inconveniences.


4-4-05

Tinkerer, from NHQ and NH, had been helpful enough to want our sites to be affiliated. Our site is now...affiliated. With his. Check it out.

4-4-05

I've updated the links to include Foamageddon, Tinkerer's site. I bumped out Newb Nerf, since Davis is lame and doesn't update it, and it had very little content.

4-2-05

I've updated the Nite Finder Clip in the Gun ideas section to my belt-fed Maverick concept. I need some help with teh seal problem, so feel free to sign our guest book or join our foum.

3-20-05

Okay, I've finally gotten around to updating. I've updated the Researcha nd Development with my stripper clip NF mod. I'll be updating later, so check for minor changes.

3-14-05


This site'll be going through some updates again, so stick around. I might add a page or two, and I'll definately be updating content.

2-22-05

I've updated the Links page. You should have no trouble with Nerfhaven or any others taht did not work. Also, I've added Boltsniper's homepage and Talio's NERF blog.

2-8-05

The site is completely finsihed, and I have threads up on the major Nerf Forums about it. I will be going around the site and correcting all spelling and grammatical errors that I find.

2-6-06

I've added and deleted two extra pages called "Comics" and "Non_nerf Stuff". I've also added a counter to the main page, and so far, we're getting over thirty hits a day. Which is great, seeing how all of my other websites didn't reach that in six months.

2-5-05
I've added pictures and a writup for the Maverick in the modifications section. Also, there is a new sectio, called "Gun IDeas", where I will post my brainstorms.
2-4-05
I've added a "forum rules", which is basically a code of conduct for the forum. I'll try to make the link more noticable.

2-3-05
Rei has come through! We now have a forum from invision board. feel free to join. To access it, go to "Our Forum" and click on the smiley.
The Celtic Wolf Clan official logo.
Pratt, the second member of the CWC emailed this to me. From now on, it's our official logo.